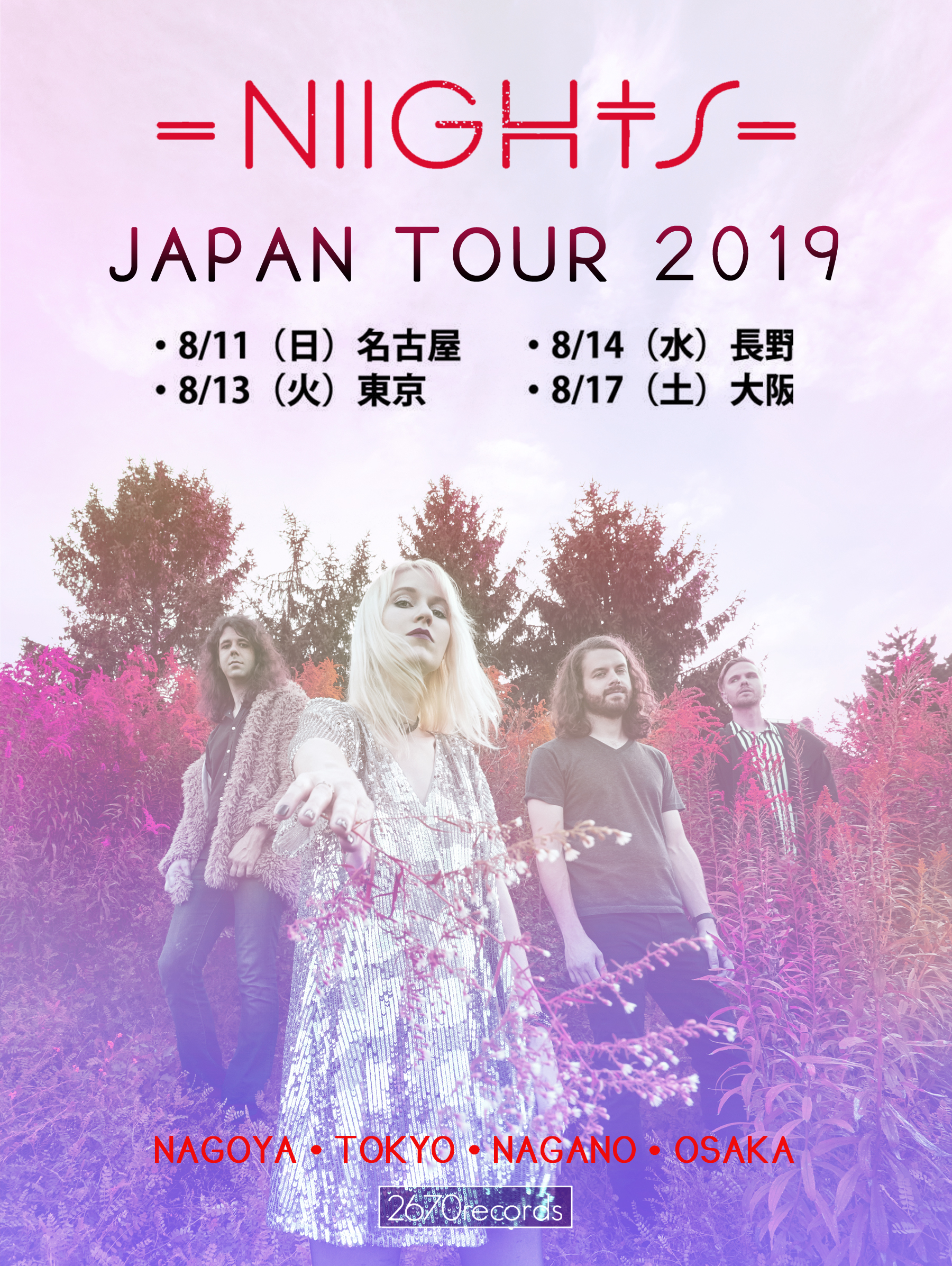 NIIGHTS merge dream-pop and heavier rock with artfully crafted songwriting and dynamic shifts reminiscent of Smashing Pumpkins. Ethereal vocals wrapped in layers of shimmer and fuzz channel the spirit of 90's shoegaze while confessing poignant lyrics through an often whimsical lens.
Fronting NIIGHTS is visual artist & singer-songwriter Jenna Fournier, a Las Vegas-to-Cleveland transplant who began working with songwriter and innovative guitarist/pedal-tweaker Frankie Maraldo in 2010. The two are now joined by Jeremy Dodge on drums and bassist Alex Wright, who anchor and underline the sonic chaos.
NIIGHTS released their first EP, A Tangle of Arms, in 2010, followed by their debut album Whisper (recorded by Jim Stewart) in 2013, which landed them a deal with 2670 Records in Japan. After two international tours, NIIGHTS signed with Tragic Hero Records and re-mixed Whisper with legendary producer Jim Wirt for a re-release in 2015.
Fournier soon returned to Japan with an exclusive solo EP and tour in 2017, while simultaneously working on a new NIIGHTS album with Maraldo and Wirt. Hellebores finally hit the shelves in February of 2019, after nearly four years of obsessing over details, writing and experimenting in-studio, and fitting the new pieces of a live performing band together. The latest LP echoes the pop sensibility and ethereal ambience of Whisper, but with a darker evolution that explores new metallic territories for the band. The record quickly garnered attention from national press and climbed immediately to Disc One in Pop-Rock in Tower Records all over Japan.
NIIGHTS followed up their sophomore release with a US tour alongside one of bedroom-pop's cult-favorite artists, Elvis Depressedly, and a fourth International tour to Japan in 2019. NIIGHTS parted with Tragic Hero Records in 2020 and is currently writing and recording with plans for both a full studio album release from the band and a self-recorded and produced solo album from Fournier.
Connect on Instagram for the most recent updates.